* Narsha Girl - Into Pink Enigma ; Narsha - LE10
* Special Limited Edition - LE10
-------------------------------------------------------------------------
I go to see my sister in my lucid dream.
I make up myself as my sister but
my sister doesn't recognize me.

When i go across the spiderweb
to arrive a space without any window on every wall,
my sister will slightly come and sit down on my shoulder.
My sister wait me, does she?
My sister said to me with a same experssion as 100 years ago.
Do you like to play hide and seek game?

My sister gives me a puzzle.
I wrinkle my forehead after hearing her puzzle.

Her puzzled smile melt in dark space as if she want to punish me.
I hope to hear twittering of birds and seeing lumineux soon in the morning

-------------------------------------------------------------------------
* What is Pink Normal Skin Tone?
To meet sweet pink skin tone made by dollmore.
It contains much more anti UV agent which will much reduce the yellowing speed.
This soft pink normal skin type can be produced by Dollmore only and only used for the doll in very high quality.
-------------------------------------------------------------------------

* Included: whole narsha doll(makeup, assembled), eyes, wig, gachae, clothes set, 2 cushions, box, warranty
- Clothes Set: dress, hair ornaments, neck ornaments, stockings
- Eyes : Life Like Acrylic 12mm - G12LD-11 Gray
- Wig : (7) Soo Long Sobazu (Black)
- Shoes : Narsha Size - Basic Mallang Boots (Black)
* Notice: This doll includes a special gachae(hair decoration).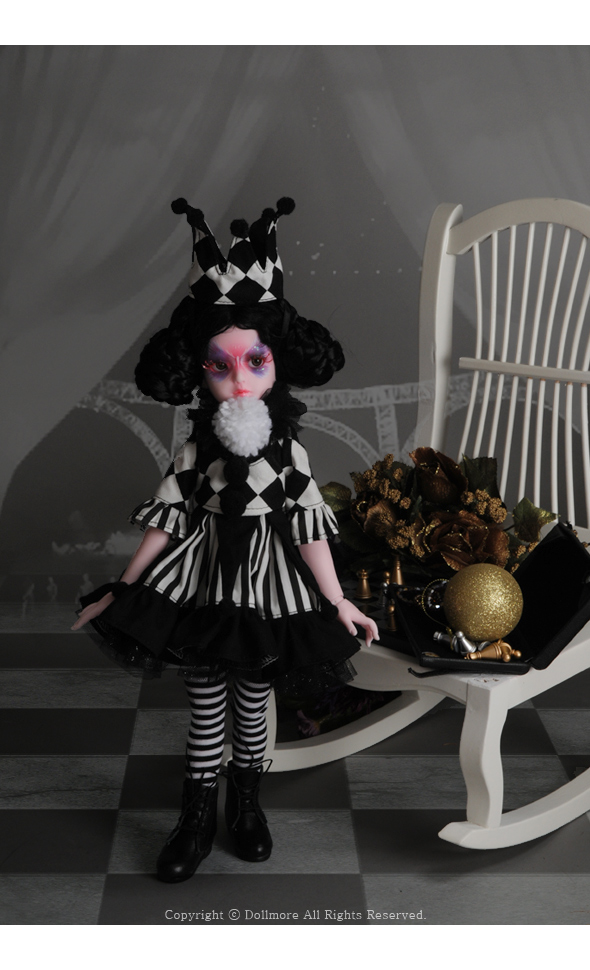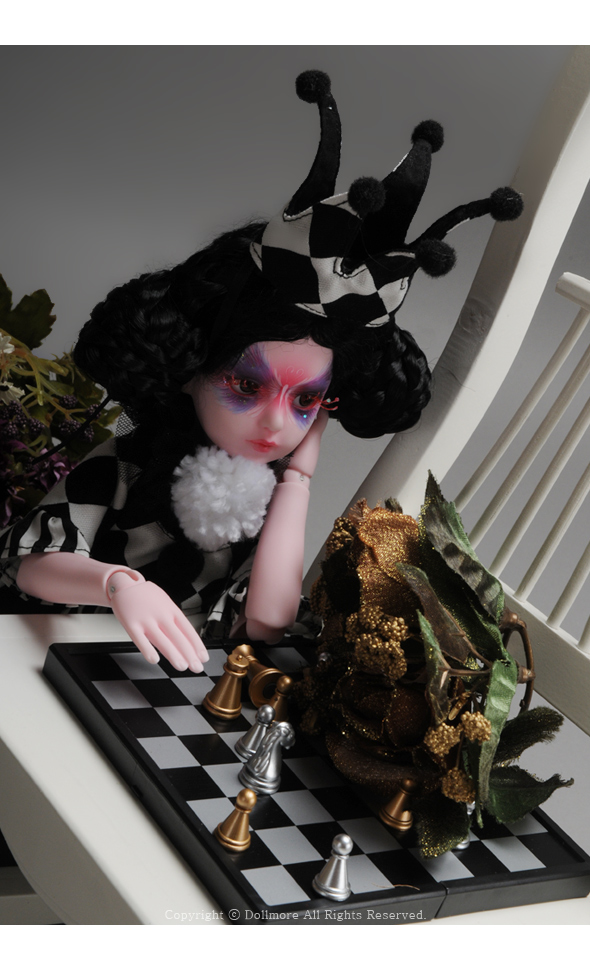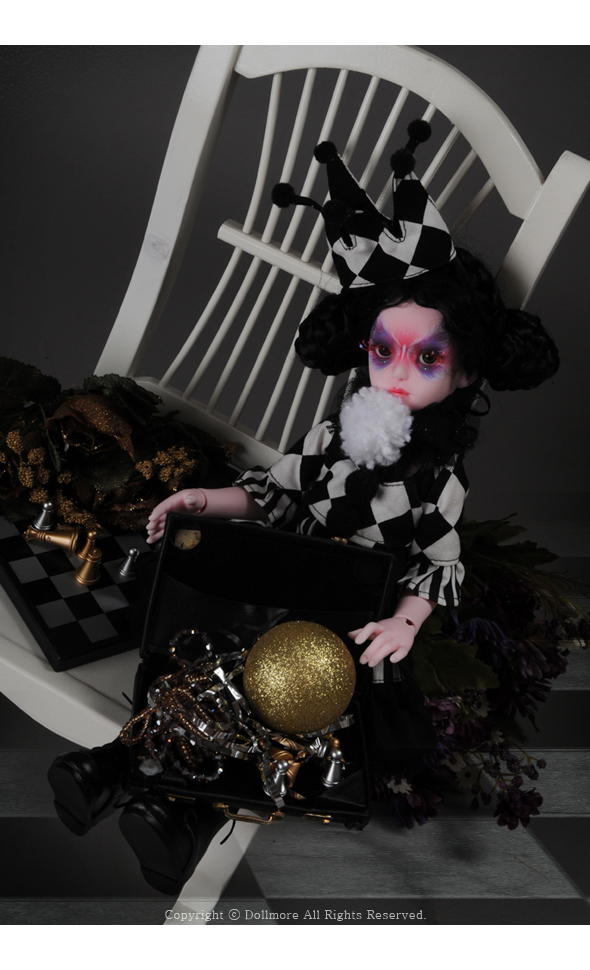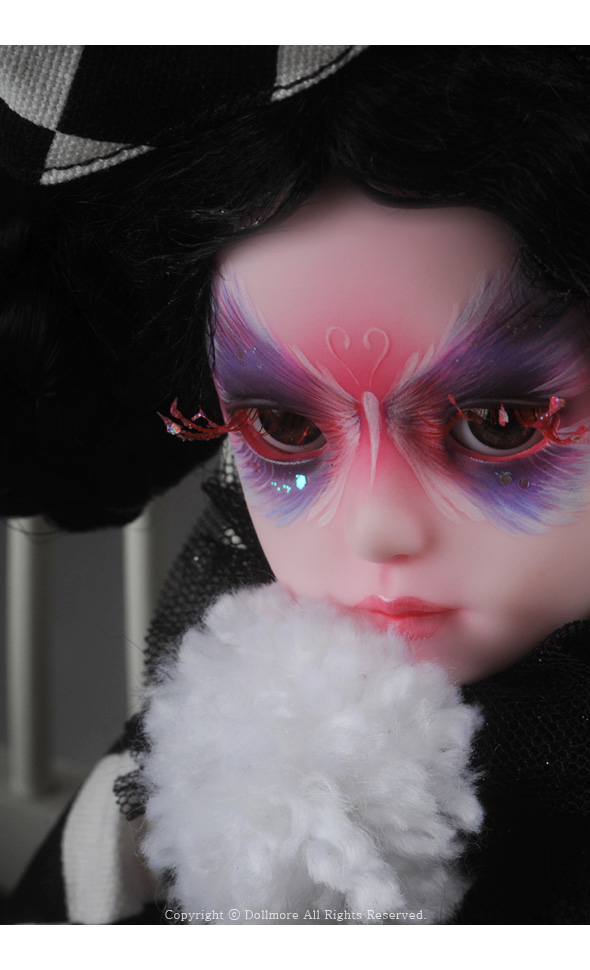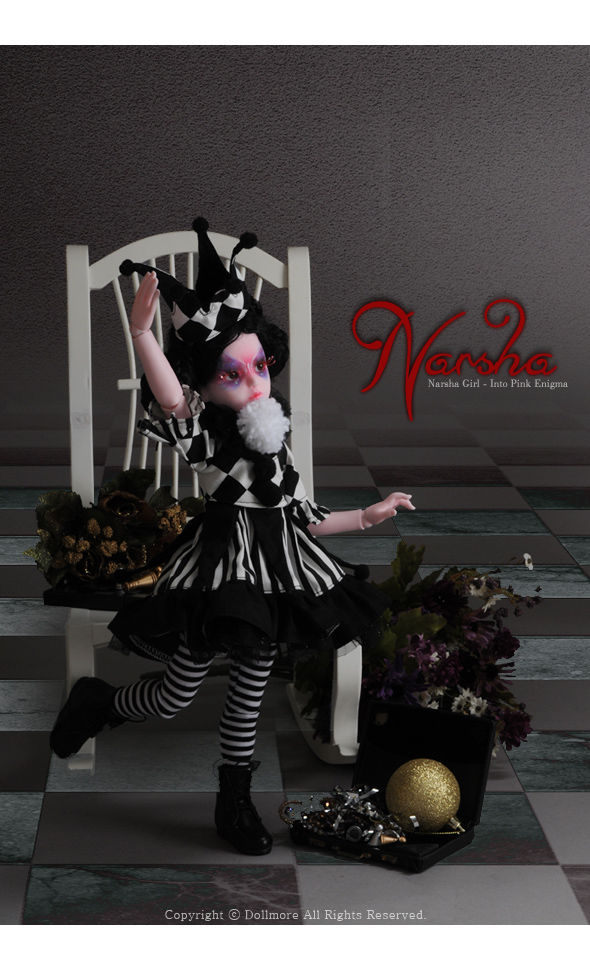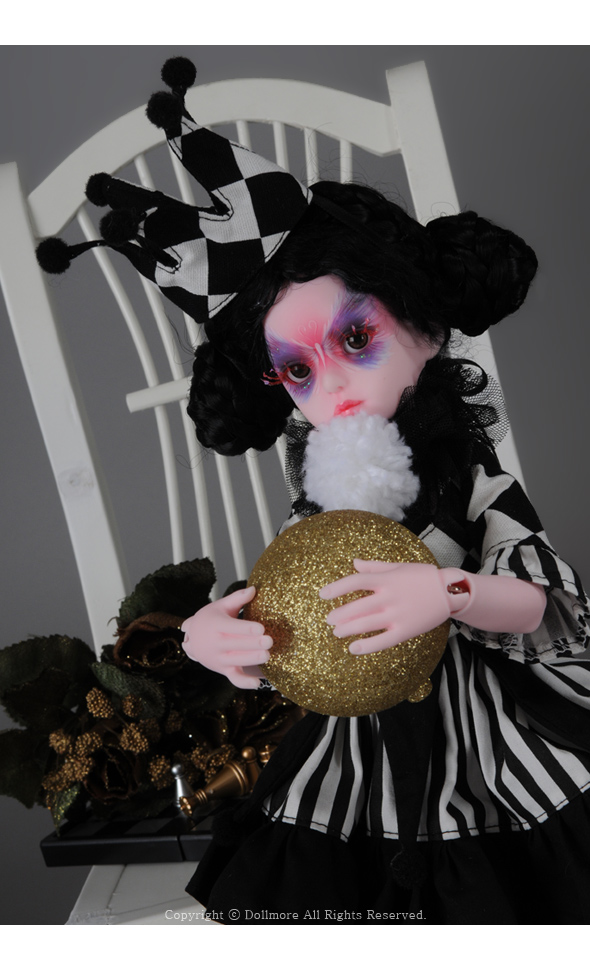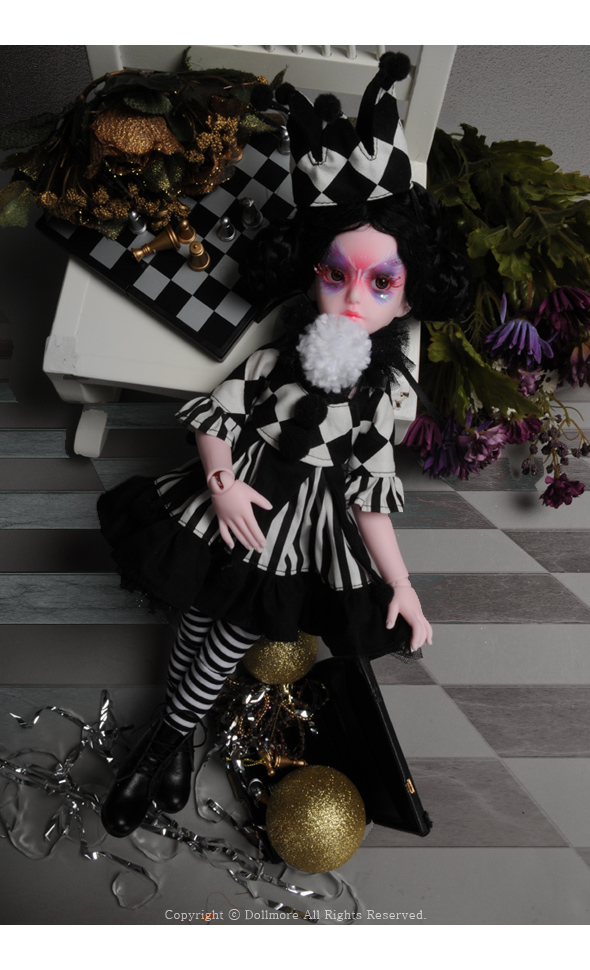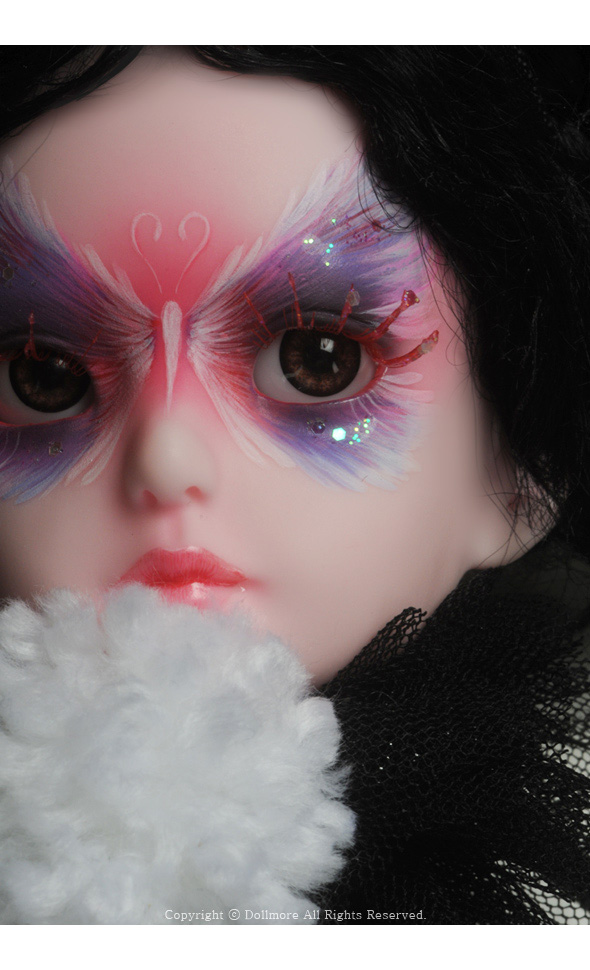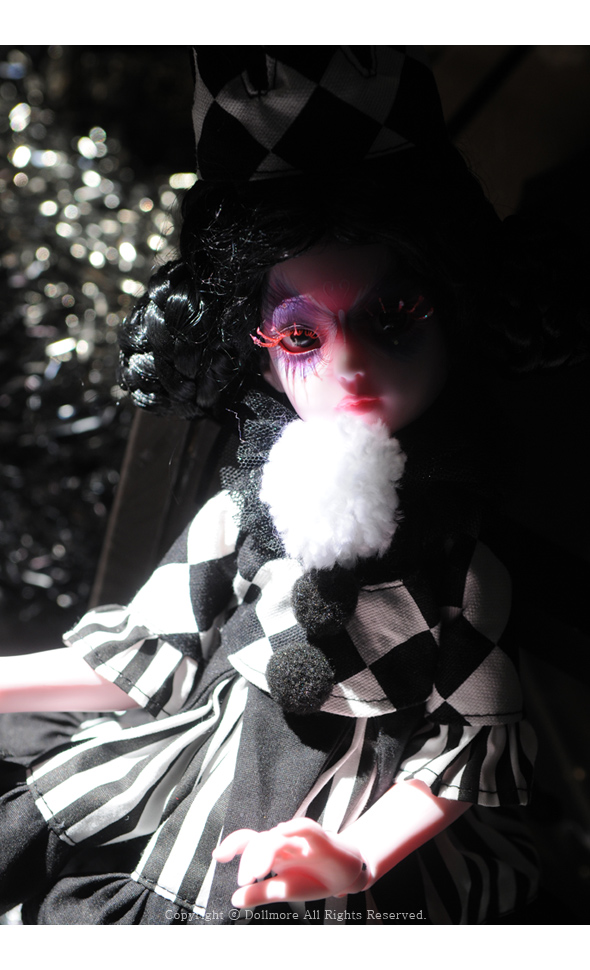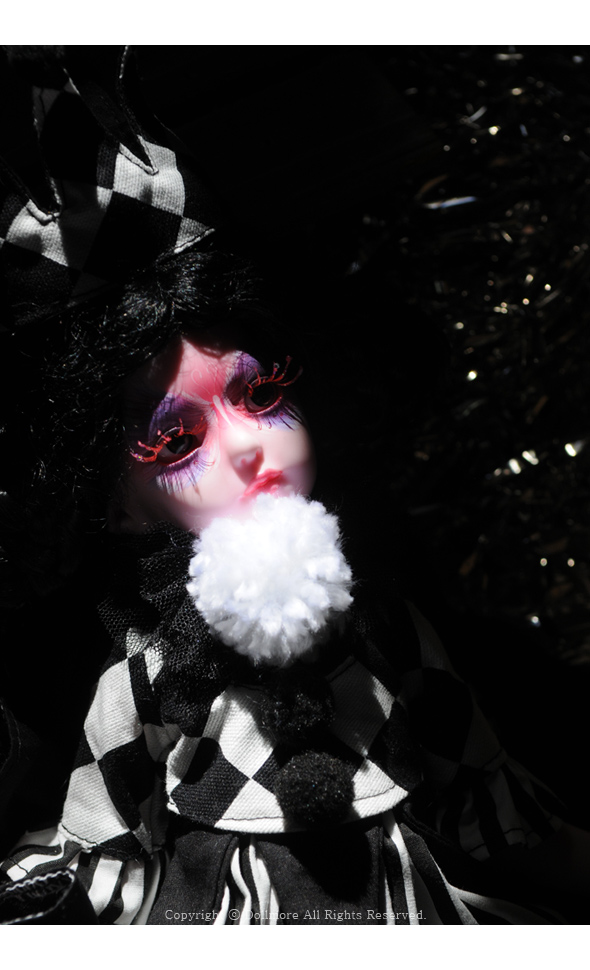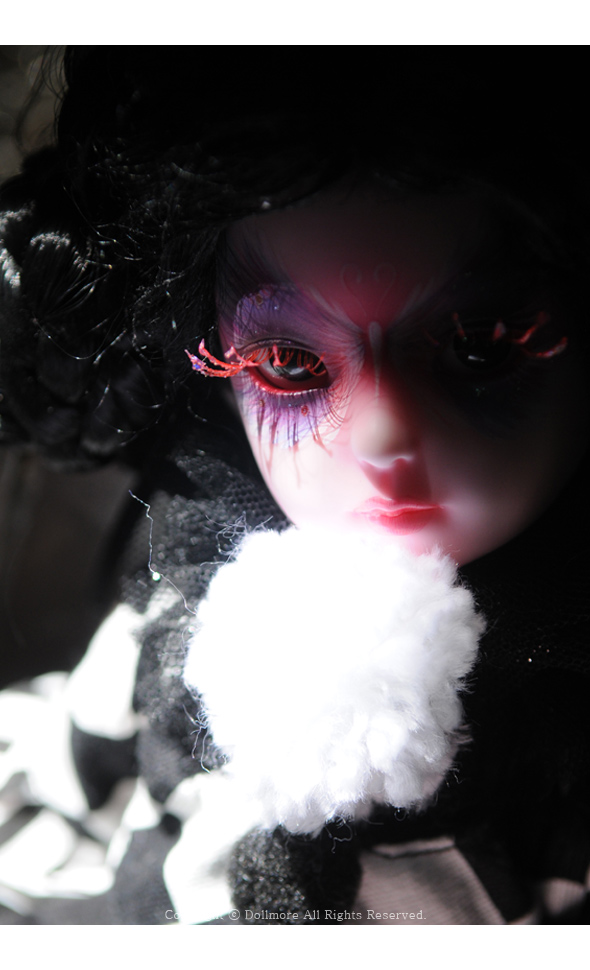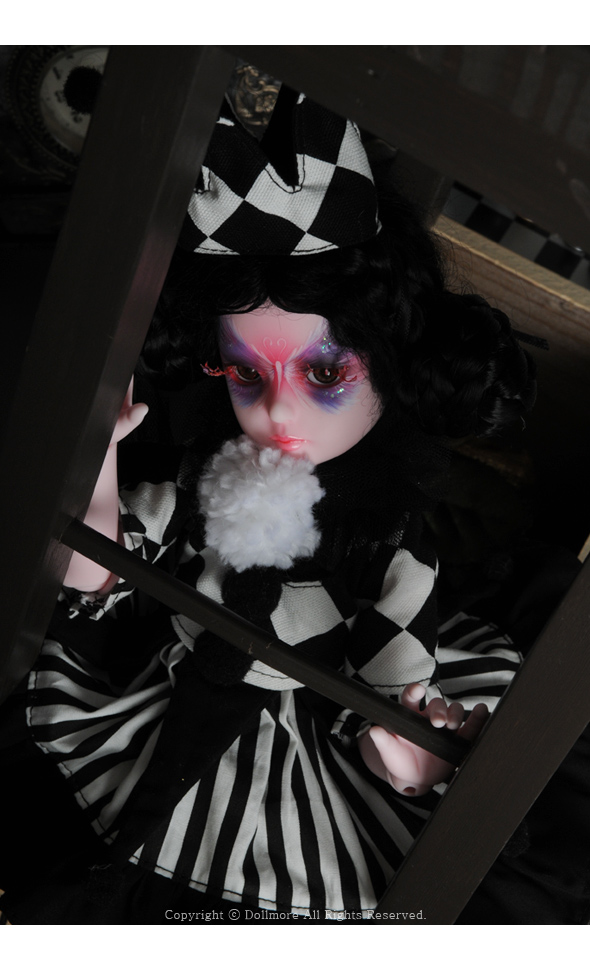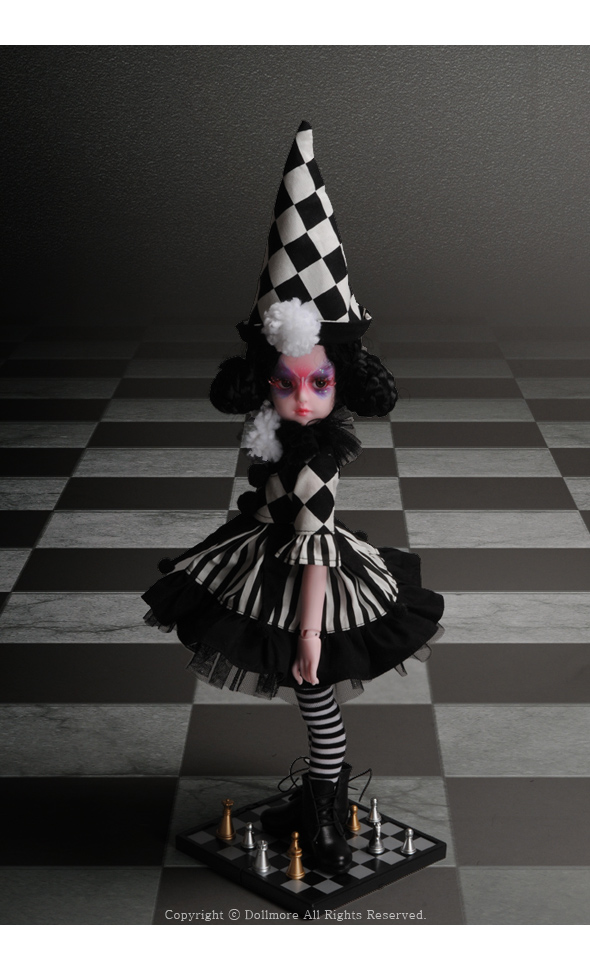 * Notice: If you want to add body blushing and body sanding to this doll, you should pay the blushing and sanding fee seperately. :))

<< order and shipping info >>
1. From order to shipping : order -> payment -> production/shipping
so you can't cancel or return or exchange goods depending on the production system.
2. Inprocess date: 30 business days at least
===================================================
* Narsha Size
- 1. Height : 35cm
- 2. Eye size: 12mm or 14mm
- 3. Head : 17cm
- 4. Bust :15cm
- 5. Waist : 14cm
- 6. Hip : 17cm
- 7. Foot : 5cm

===================================================

* Designed by Gu Mi-Jung

March,2003 Completed Bimond's Doll Academy
April,2003 Korea Ball Jointed Doll Association executive member
June, 2003 Movie"Whispering Corridors 3: Wishing Stairs,2003" provided dolls
July, 2003 Exhibit in "The New Artist of Korean Doll"
October,2003 Exhibit in "Chungju International Craft Biennale" Sponsored by Korean Creaft Promotion Foudation
October,2003 Exhibit in "Guangju Shginsegye Gallery Doll Exhibition"
December, 2003 Exhibit in "Dongdaemoon Hello A.P.M Event Exhibition"

2004, Designed "NARSHA"
April, 2004 Exhibit in "3rd TOY FAIR"
May, 2004 Exhibit in " Group Exhibition" in Mac Gallery
May, 2004 Exhibit in "Ball Jointed Doll Exhibition" sponsored by LEVI STRAUSS&CO
August,2004 Movie "The Sacrlet Letter,2004" provided dolls.(NARSHA)
October,2004 Exhibit in "The scent of memory in Movie"Sponsored by Korean Creaft Promotion Foudation

January, 2005 Exhibit in "5th TOY FAIR"
January, 2005 Exhibit in "Seoul Exhibition"Sponsored by Department Store HYUNDAI
October, 2005 Exhibit in "Korea Japan Ball Jointed Doll Exhibition" in Hiroshima

2006, Designed "Zaoll"
June, 2006 Participation in Yoshiko Hon's Ball Jointed Doll Exhibition in Hiroshima City Art mMuseum.
December, 2006 Seould COEX"1st World Doll Festival"Participation

2007, Designed"Q.pito"
Febraury,2007 KT Culture Center sponsorship"Dreaming Doll Exhibition"
May, 2007 German Toy Industry Museum sponsorship"Puppenkunst aus Korea"Exhibition
December,2007 Seould COEX"2nd World Doll Festival"participation
* Costume Design : Ajumapama
* Dollmore keeps all copyright and all proprietary rights of sculpture for Narsha doll.
* Design application No. 2006-50002
* Design registration No. 0462757
1. If you find out damage to our dolls and doll stuffs, contact us within 1 week after receiving the packet.
2. We provide free shipping service by Fedex if a buyer buy more than 1500 us dollar at one time. But if you want to receive order by ems because of customs tax issue in your country, you should pay extra shipping fee to repeat fedex shipping method to ems shipping method.
3. If you buy many doll stands or doll furniture, then it is impossible to provide free shipping service.
4. We can ship order by Fedex, EMS, SF Express( Rincos), Standard air mail (Rincos), EE-packet and boat.
5. When you buy less than 1500 us dollar but did not pay shipping fee, it means that it happened system error. We are trying our best to fix system error now. Very sorry to make you confused. We will tell you shipping fee of your order.
6. When you are in Europe and USA, we suggest you select fedex shipping method. 
7. EMS, Fedex and Standard air mail shipping fee is charged based on box size.  So when you buy a doll stuff that should ship by big box, shipping fee will be very high.
8. EMS and EE-packet and Boat tracking page link : 국제특급-EMS행방조회영문 (epost.go.kr)
  SF Express tracking page link : SF Express (sf-express.com)
  Fedex  tracking page link : 특송, 배송 및 발송 서비스 | FedEx 한국
9. To ask about further questions about shipping fee, send email to us. 
Email :  help@dollmore.net, necking@naver.com