*Special Limited Edition 10
*Dollpire Kid Boy - Awesome White : Shiloh - LE10
The ribbon hanging from the window flutters in the strong wind.
Beyond the shiny reflection of the small windows lies tiny white bird far away.
It is surprising that the bird is stronger than the wind.
The place where I am staying is filled with the white light.
The room is white, my dress is white, I am also white.
I'm shockingly white like the blood is drained out of my body.
A violet sky, a blue-green ribbon, a white bird.
The ribbon is repeatedly fluttering with the same movement as if it's hypnotized.
Still only the lost memory lies here. Waving consciousness.
My scattered self like bright light Myself in the old memory of a forgotten childhood
Tonight, I will vow my marriage to death.

* Included: shiloh white skin head(make up), assembled white body ( vampire hands, including hands blushing), glass eyes, wig, clothes set, box, 2 cushions, warranty
* Clothes set: coat, vest, shirts, pants, belt, underwear, neck accessory, socks, boots
* Wig : (7-8) Transfor Cut (White)
* Shoes : MSD - Trouper Boots (White)
* Eyes : D - Specials 14mm Eyes(HF22)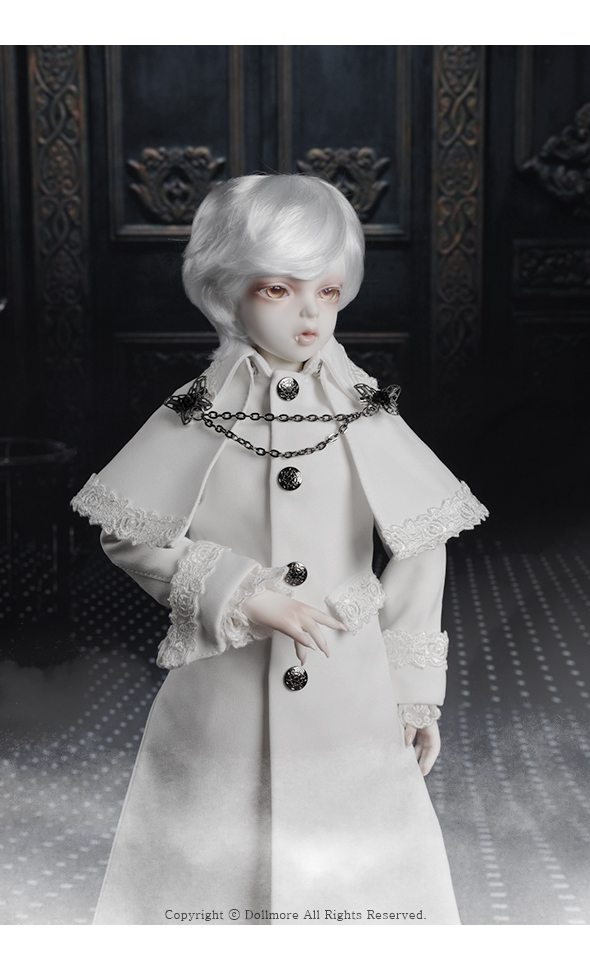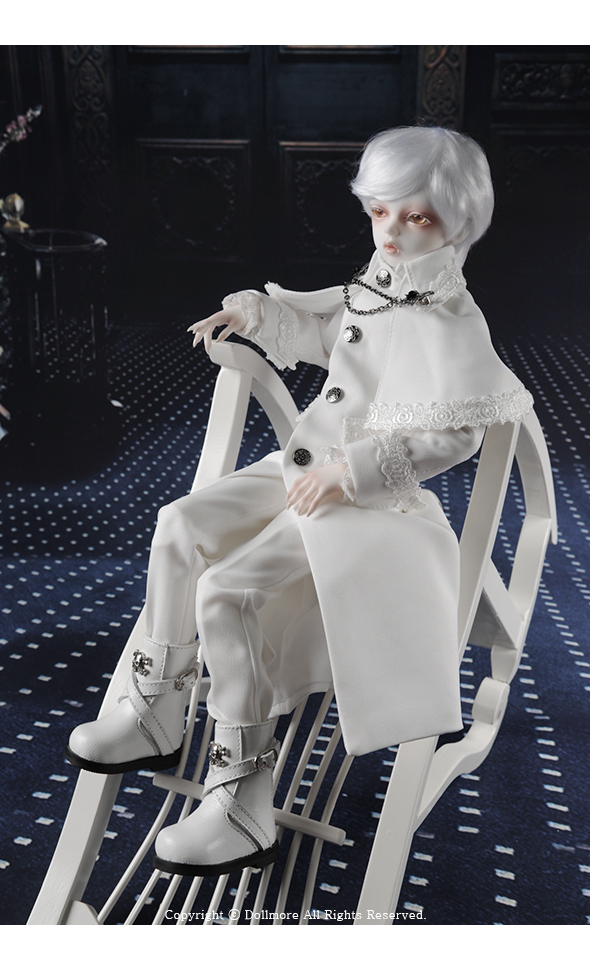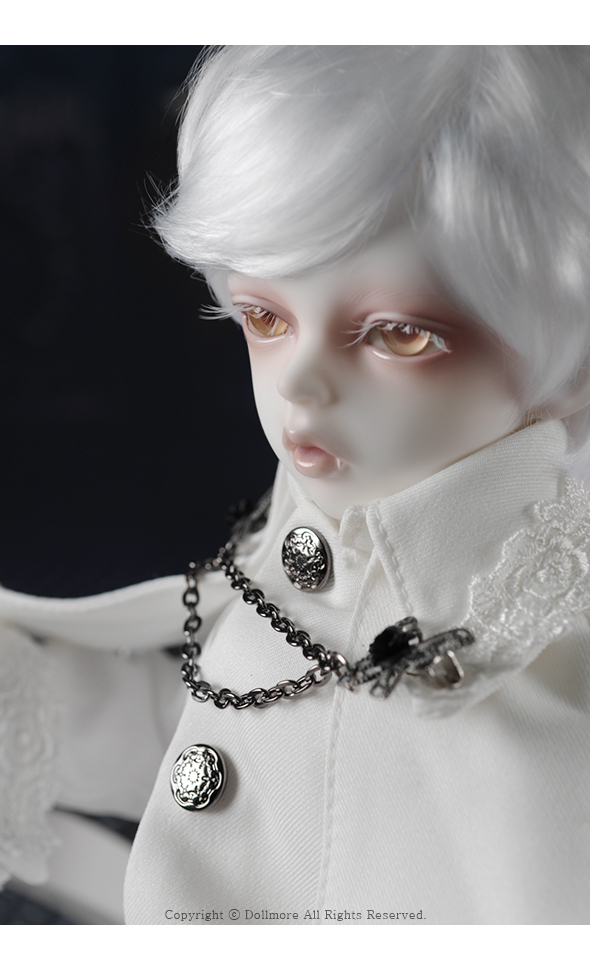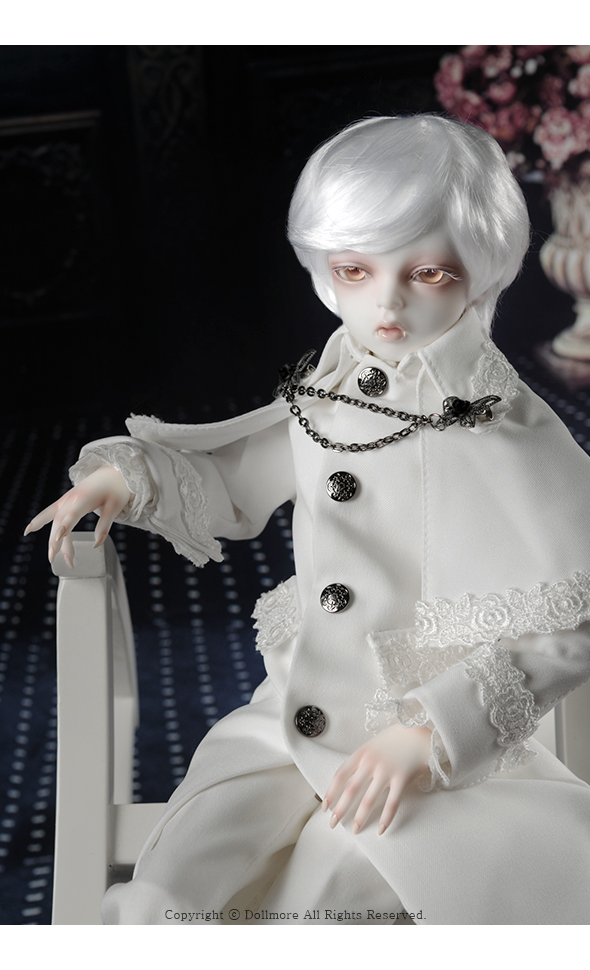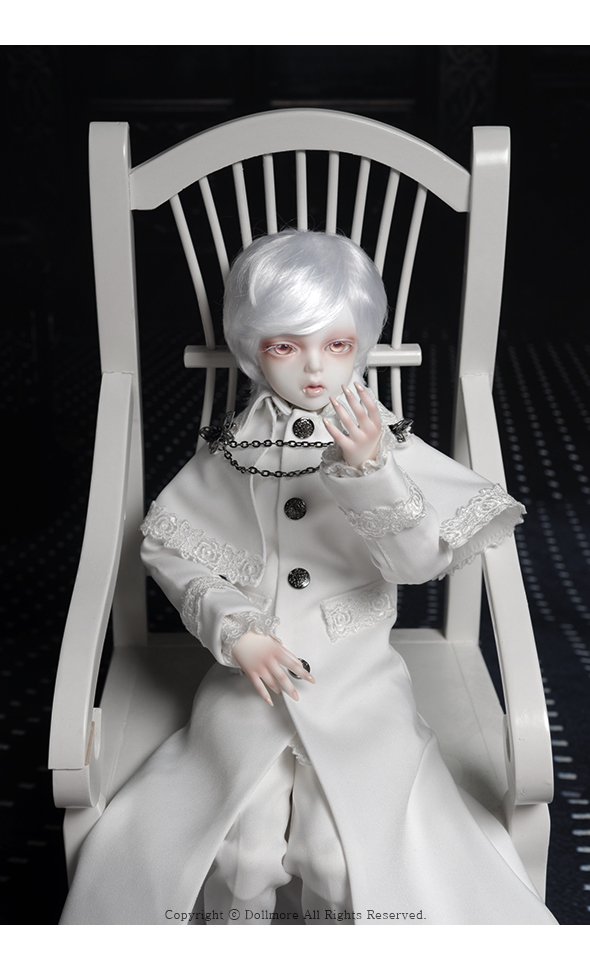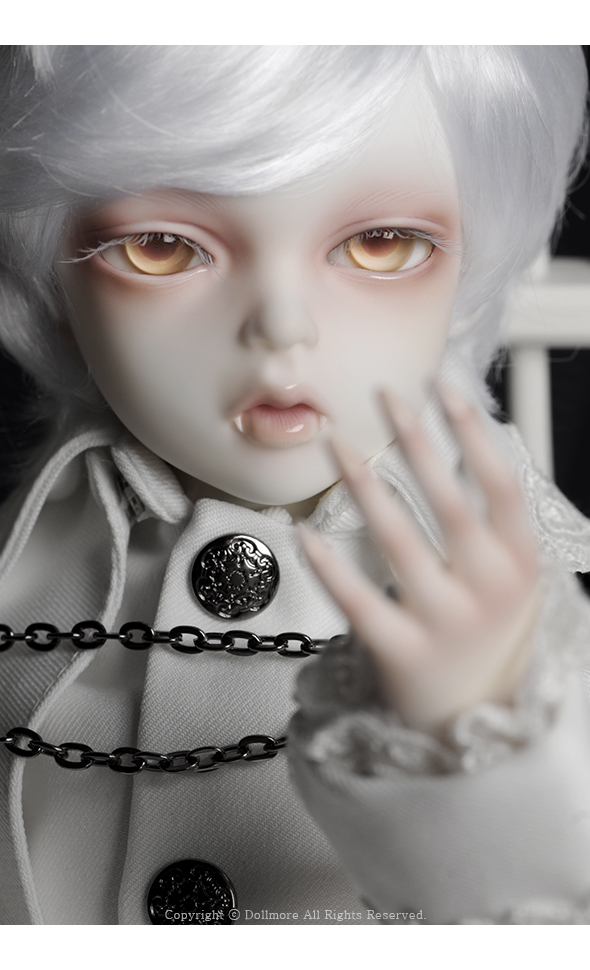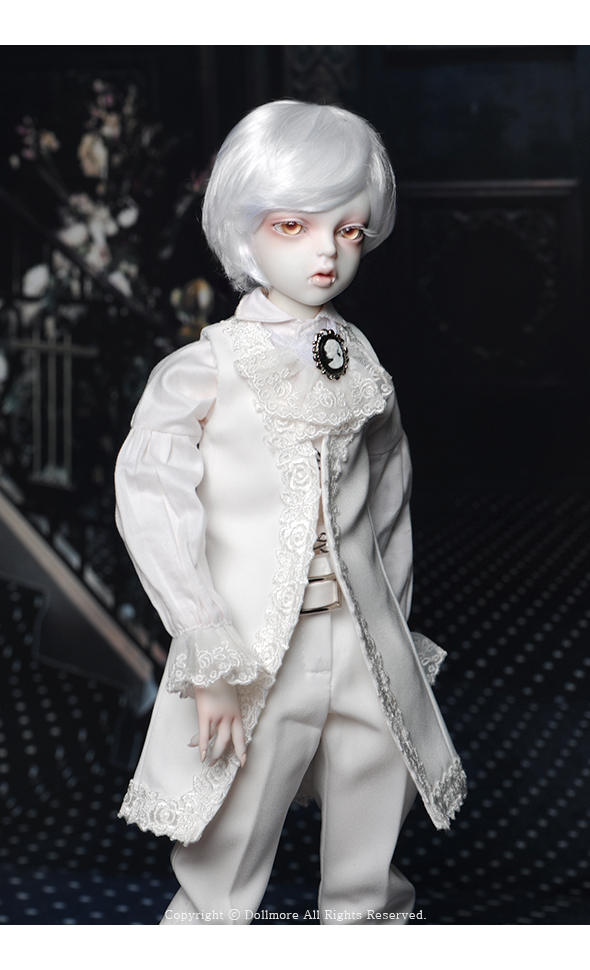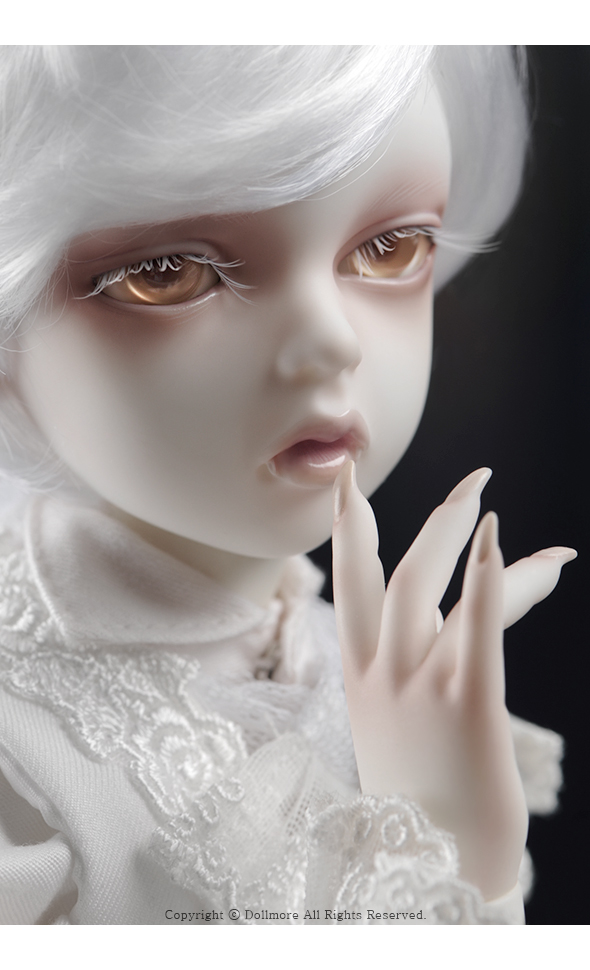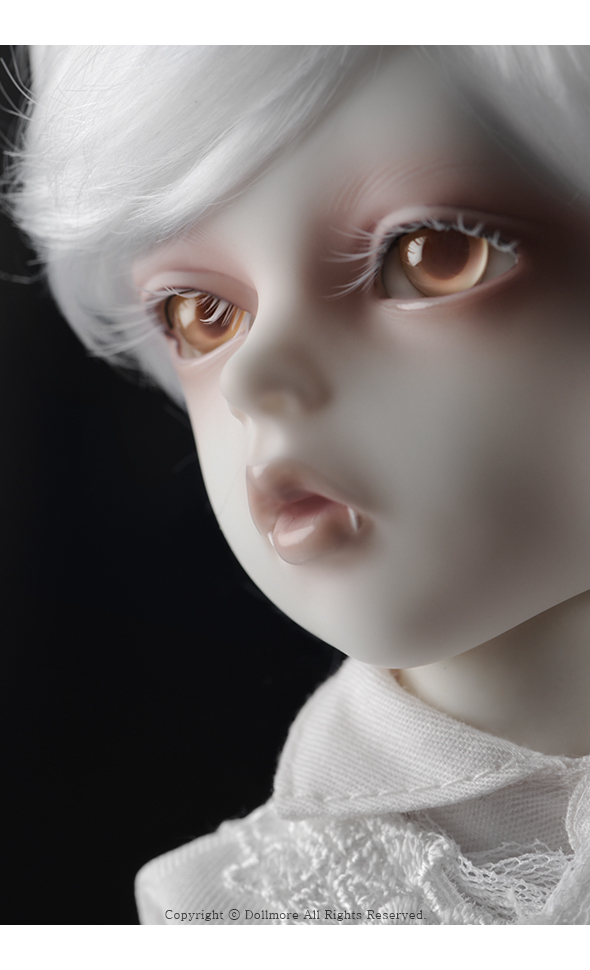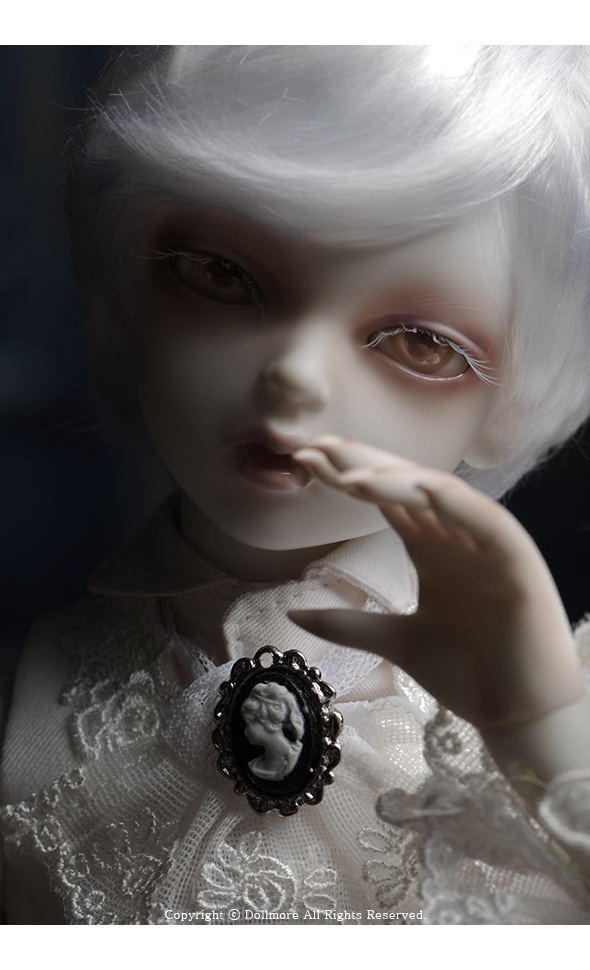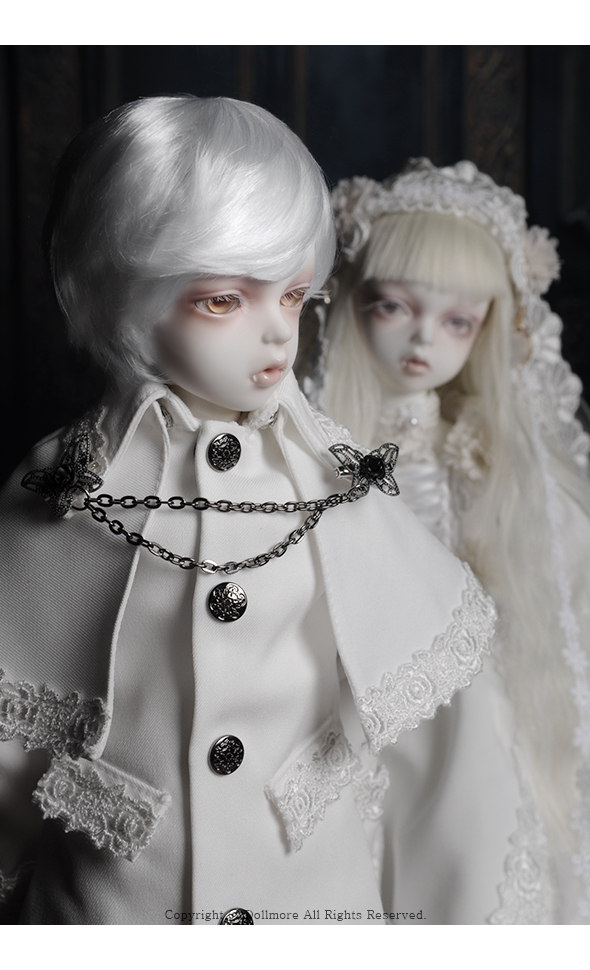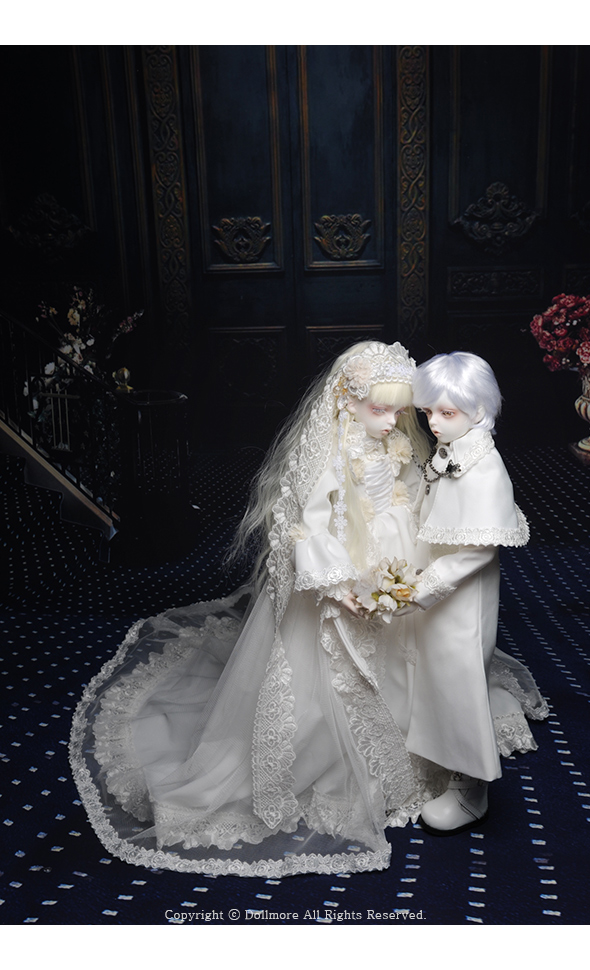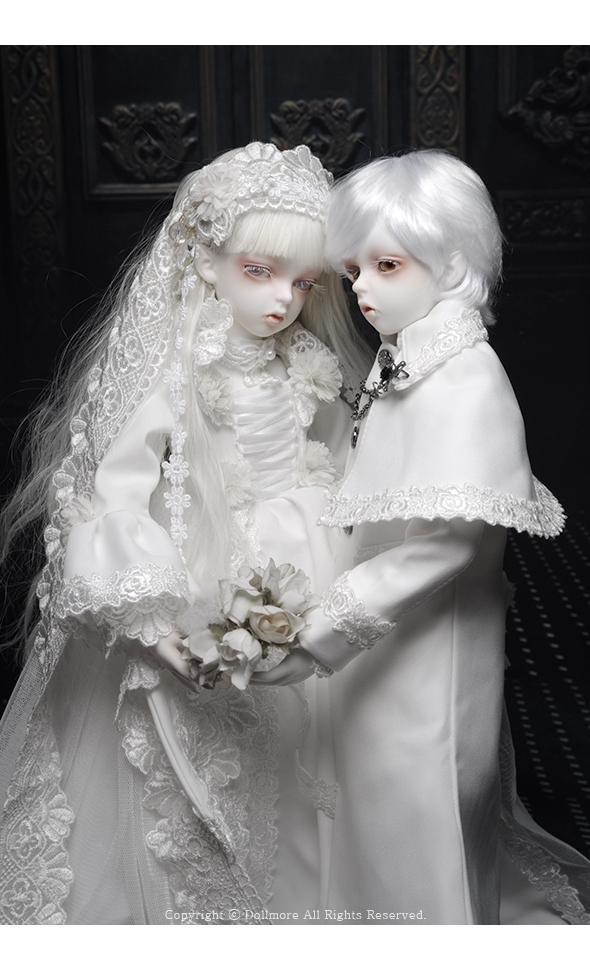 * Dollpire Kid Body Size
1. Tall: 43.5cm
2. Body length not include a head : Boy 38cm /Girl 37.5cm
3. Length from hip to knee : 11cm
4. Length from knee to calf: 10.5cm
5. Circumference of neck : Boy 6.8cm / Girl 6.7cm
6. Width of shoulders : 6cm
7. Circumference of chest : Boy 17cm / Girl 17.5cm
8. Circumference of waist : 14.5cm
9. Circumference of hips : 19cm
10. Circumference of Wrist : 4.5cm
11. Length from shoulder to wrist include a wrist ball : 14cm
12. Circumference of ankle : 6.2cm
13. Length from hip to Heel: 23.5cm
14. Length of Foot size : 6cm
*For information about order and shipping
- As based on 'Production after order' system, your order can't be canceled, after paying.
- The shipping date may be delayed a little more on hand-made work. Seek your understanding.
- In general, It takes about 1-2 months from the date of your payment.

* Payment method
1. Paypal - Dollmore will send you a invoice via paypal. (help@dollmore.net/necking@dollmore.com)
2. Eximbay (direct credit card payment)
3. Bank transfer.
- Bank name: Korea first Bank
- Account: 431-20-243375
- Recipient: lee eun young)
- Bank tel: 82- 2- 521- 9252
- Bank address : KOREA FIRST BANK 1675-1
Seochodong Seochogu Seoul 137-070 Korea
Gyodaeyeok Br.
- SWT code : SCBLKRSE
Design registration No. 2006-50002