Current Page

home > Special Sale > BJD Items > (Damage tax [one day) Pocket Doll Stand (PF Doll Stand) For 14cm~17cm Doll (Slim Waist)
Product Classification List
(Damage tax [one day) Pocket Doll Stand (PF Doll Stand) For 14cm~17cm Doll (Slim Waist)
Consumer Price

16.20USD

Sales Price

10.80USD

Mileage

0.11USD

Weight

0.15 Kg

Special Note

* Can be used with Bebedol, Pocket, and Latidol.
Total Purchase Amount
0 USD

Facebook Login






* 테미지 세일합니다. 보관중 모서리 부분이 약간 칠이 벗겨졌습니다. 사용에 이상은 없습니다. ■ 상품명: 미니 돌스탠드 ■ 상품구성 : 미니 돌스탠드 1개 ■ 사이즈: 베이스지름 : 7.5cm / 허리고정대 간격: 2.3cm / 기둥높이 : 5.5 cm ■ 소재: 베이스 - 우드 / 기둥 - 스테인레스 (그립부분 : 플라스틱 코팅) 5-7인치 사이즈의 구체관절인형을 위한 허리고정형돌스탠드입니다. 미니사이즈의 구체관절인형의 신체사이즈에 적합하도록 스탠드의 허리고리 부분의 사이즈를 조절하였습니다. 스탠드의 고리가 겉으로 많이 드러나지 않는 디자인으로 미관을 방해하지 않고 인형을 안정적으로 잡아줍니다. 고급 스텐레스 기둥으로 변색이나 손상이 적으며 인형과 직접 닿는 고리부분은 플라스틱 코팅으로 몸체에 손상이 없도록 제작되었습니다. 고정하는 그립형 윙의 사이즈 조절이 용이하여 안정적으로 전시할 수 있습니다. * 모델 : 돌모아의 베베돌 스위티 (키 : 14.5cm)

* Notice: It is a on sale item. The paint peeled off slightly on the edge during storage. However, there is no proble when you use this doll stand. Product's name: Mini Doll stand Included: 1 doll stand Size: Base diameter: 7.5cm(2.9inch) Stand high: 5.5cm(2.16inch) Manufacture : Dollmore Country of Origin : KOREA This is one of the doll stand designed for tiny dolls from 5 inch high to 7 inch high. This stand will fix waist line of the doll. Hook of this doll stand is hard to see from outside, so it will not effect a lot of doll style who stand by this doll stand. It is hard to happen damage or scrach on this doll stand because of high quality stainless material. There is rubber cap on the doll stand to avoid damage to the doll. Finally, you are able to adjust wing size of this doll stand. * Included: 1 doll stand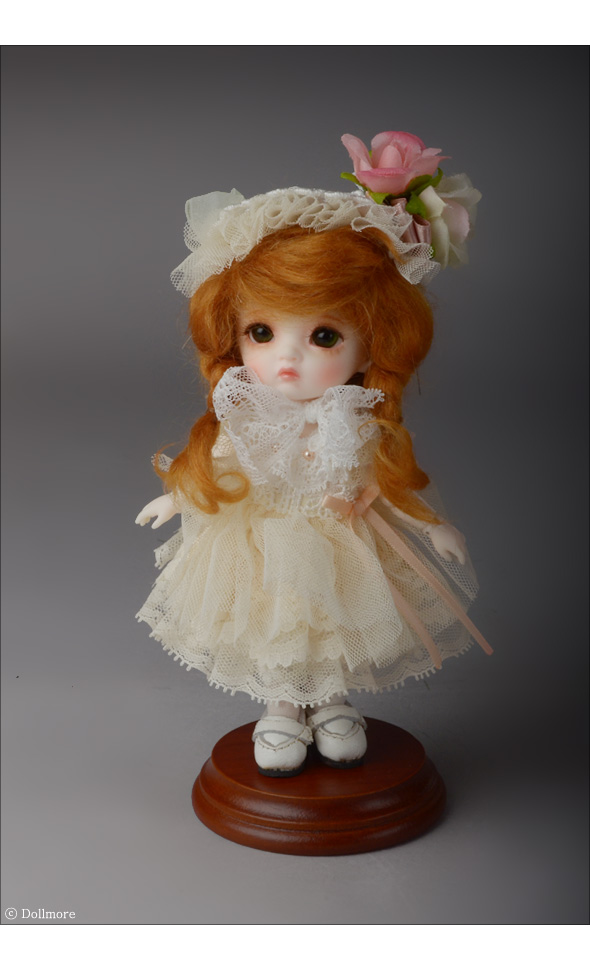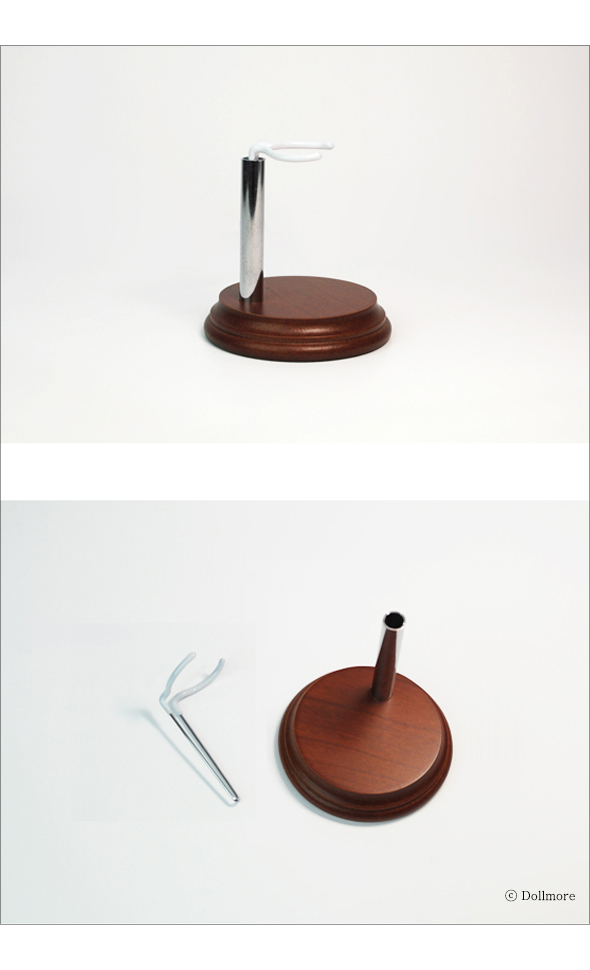 1. We provide free shipping service for one packet by FedEx if a buyer buy more than 2000 us dollar at one time.
If your order should be shipped by two packets, you need to pay extra shipping fee for the second packet.
2. If you buy many doll stands or doll furniture, then it is impossible to provide free shipping service.
3. We can ship order by Fedex, EMS, Rincos, k-packet.
4. EMS, Fedex, Rincos and Kpacket shipping fee is charged based on box size.
Therefore, when you buy a big size doll stuff, shipping fee will be very high.

If you find out damage of our dolls and doll stuffs, contact us within 1 week after receiving the packet.
Our E-mail: necking@naver.com , help@dollmore.net
Our Facebook ID: Eunyoung Lee (Dollmore)

We provide Layaway Payment Method when buyer buy a doll or doll parts when order amount is higher than 200 us dollar.
There will be absolutely no refunds, exchanges, or changes about layaway order.
If you cancel your layaway order, you will lost all deposit that you have sent.
All purchase of layaway order is final.
We suggest you leave a memo about layaway terms when you make order, we will check your memo when we send Paypal invoice to you.
We will set partial payment option to the PayPal invoice of layaway order.
You can pay partial payment at that PayPal invoice link.
There is no product related to this item.