* Trinity Doll - Persona Pathos ; Lumie - LE10

* Special Limited Edition- LE10

In a long neck transparent glass bottle

To collect transparent tears

I drew transparent pictures.

When the dark night no longer masked the sky, and the painful morning came again,

I looked up at into the hazy atmosphere through the window, pulling my face off of my damp pillow.

It was a terrible nightmare...

I had a terrible nightmare without exception last night, though not as long.

I felt extremely tired, staring at the misty rain pounding on the window.

Falling lightly in a whirlwind, like the first powdery snow of the winter.

Feelings of emptiness, which is the same as the season passed across time.

The empty void between the changes of seasons weighed down on me, taking away every last breath.
Meaningless pictures drawn along the trail of transparent tears.

It was a desolate day, which I'm afraid is more disheartening
than the nightmare which I'll enter into again this evening.
* Included: normal skin body includes hand parts blushing, normal skin head with face-up,
28mm glass eyes, wig, clothes set, shoes, 2 cushions, warranty, bag.
- Clothes set : outer dress, inner dress, stockings, lace shawl, choker, head ornament, shoes

- Wig : (13-14) Forest Straight Wig (Chestnut Brown)
- Eye : 28mm Glass Eye (GreenGray)
- Shoes : Trinity Doll - Basic Meryjane Shoes (Ivory)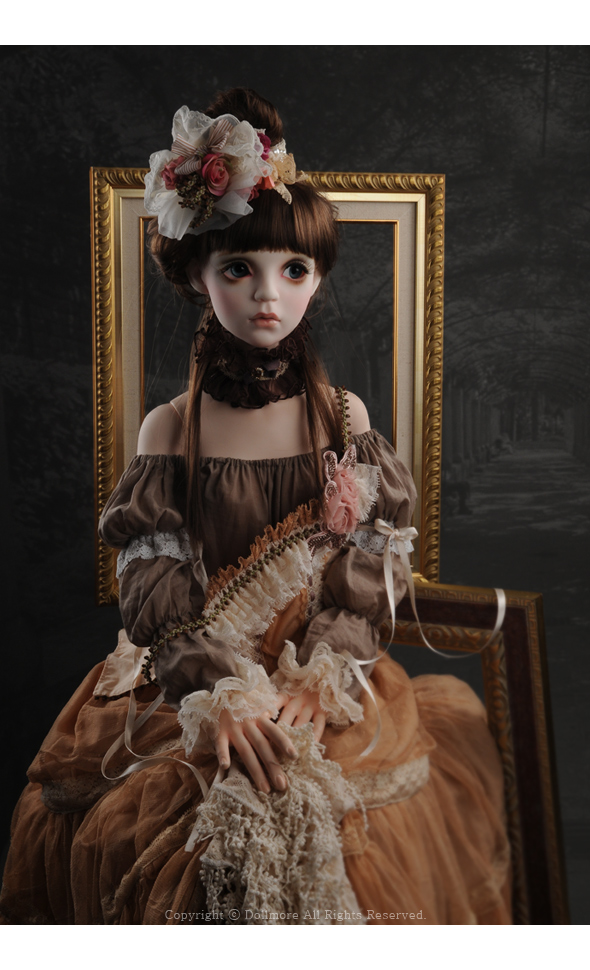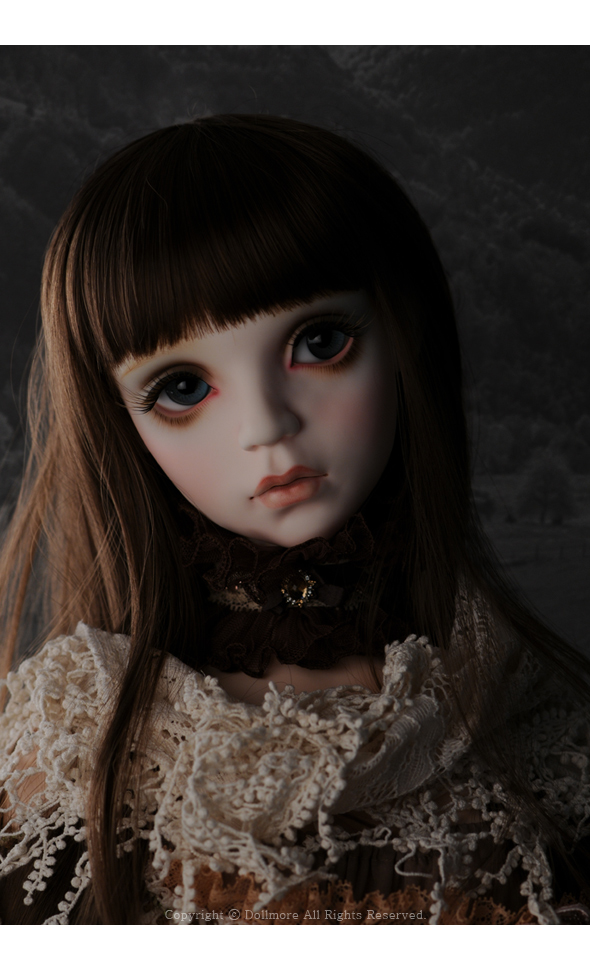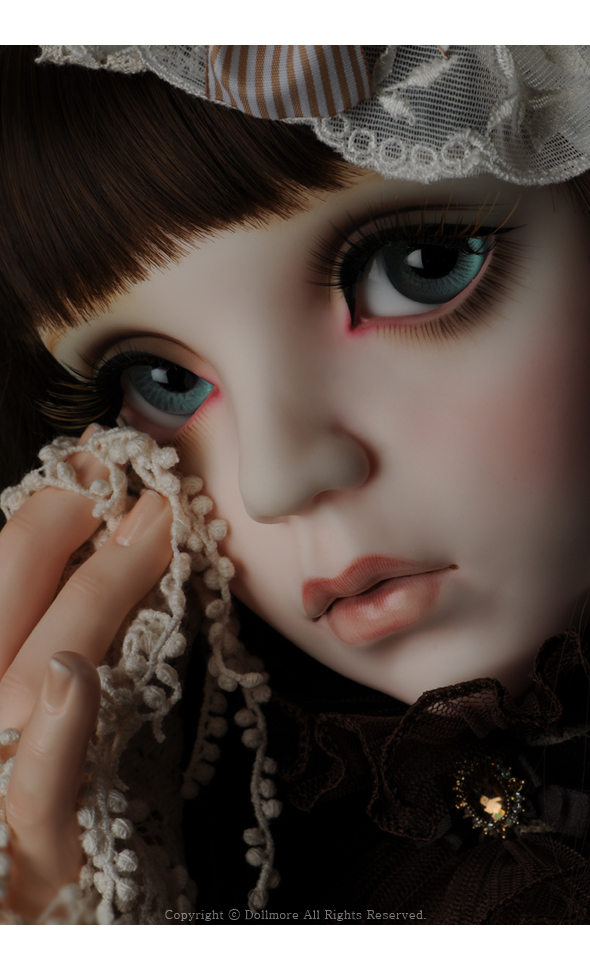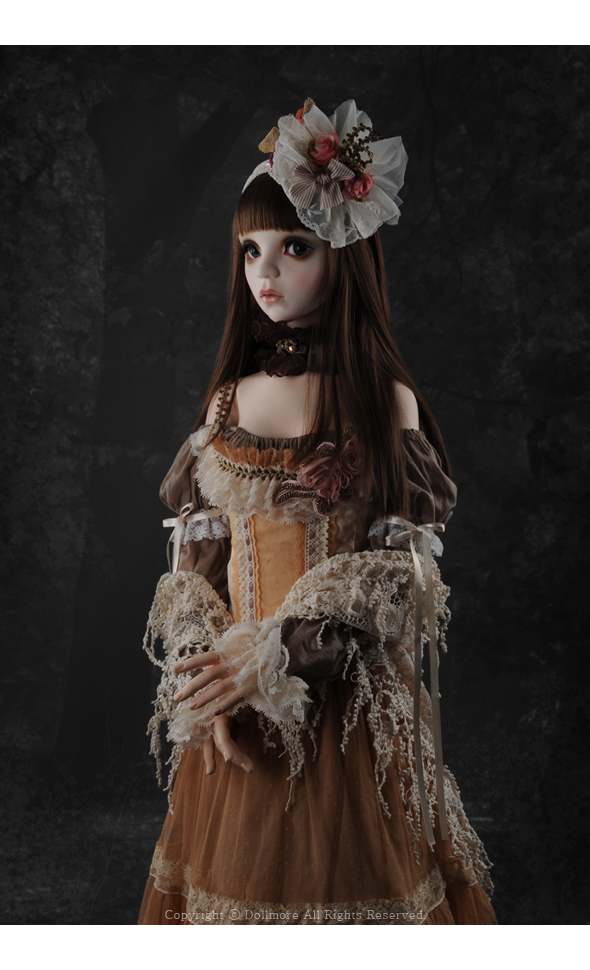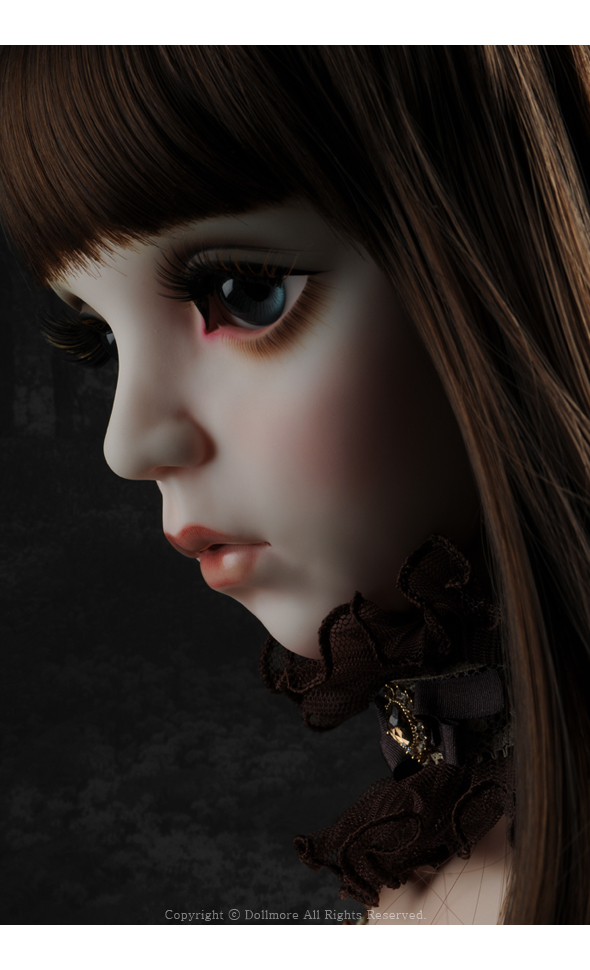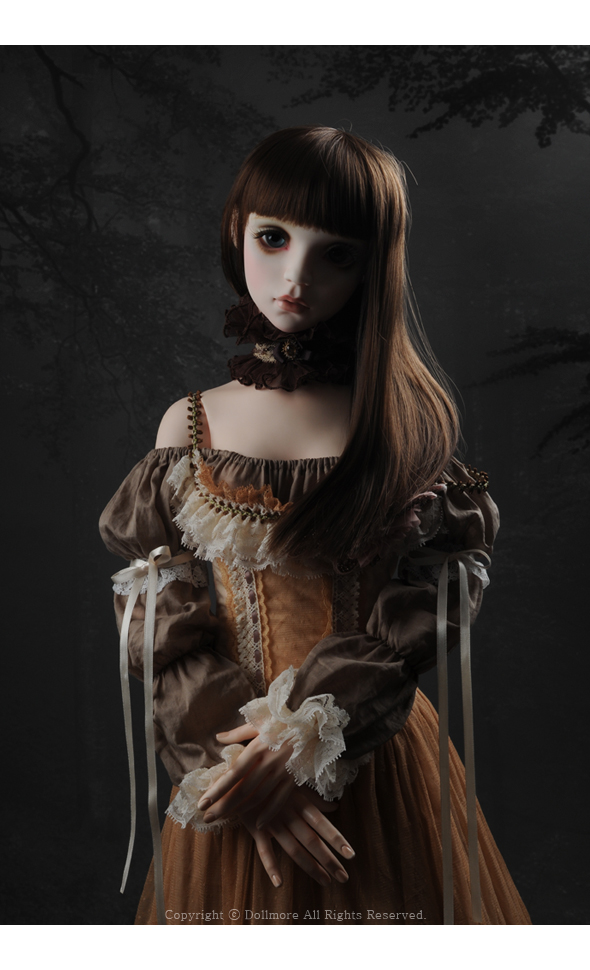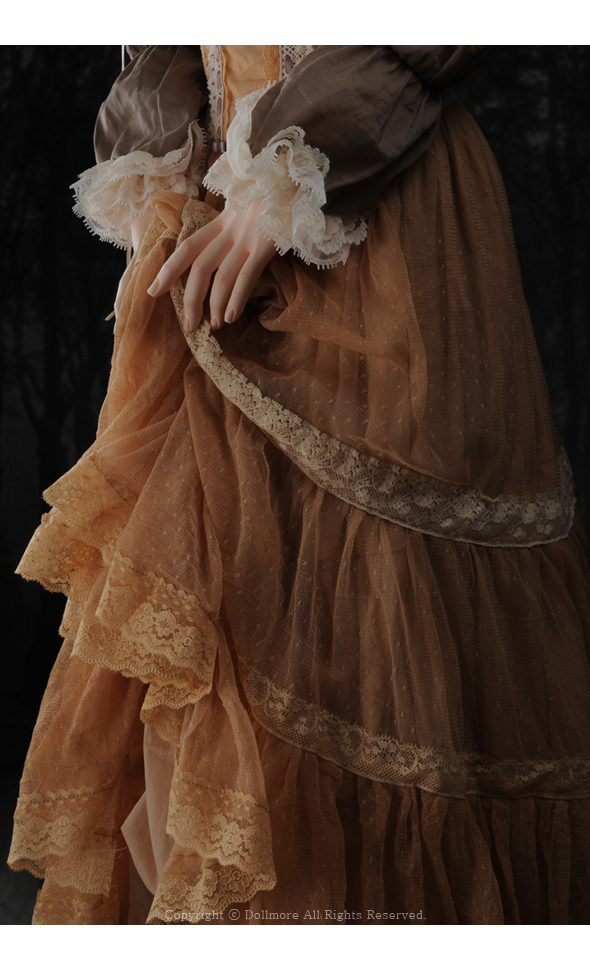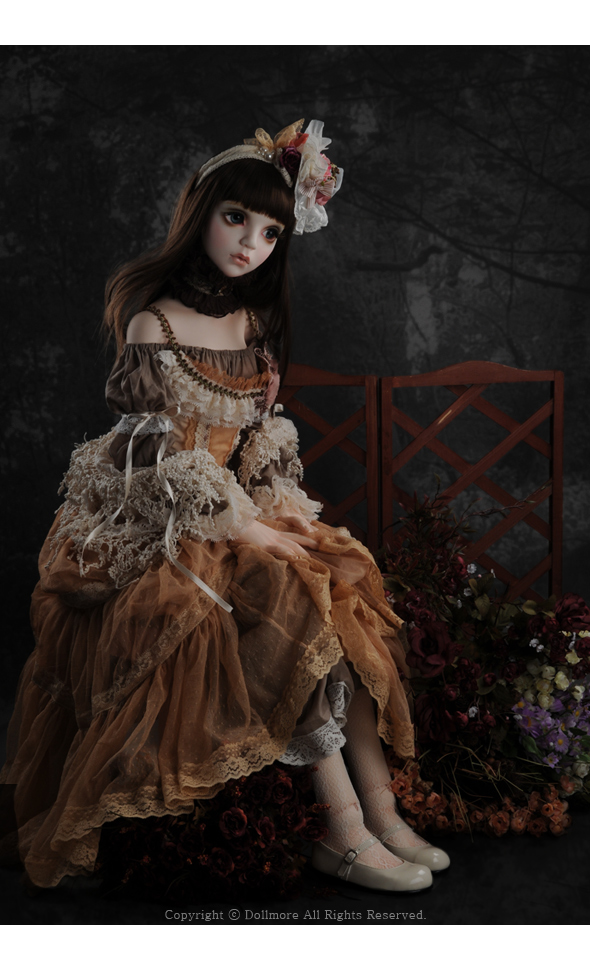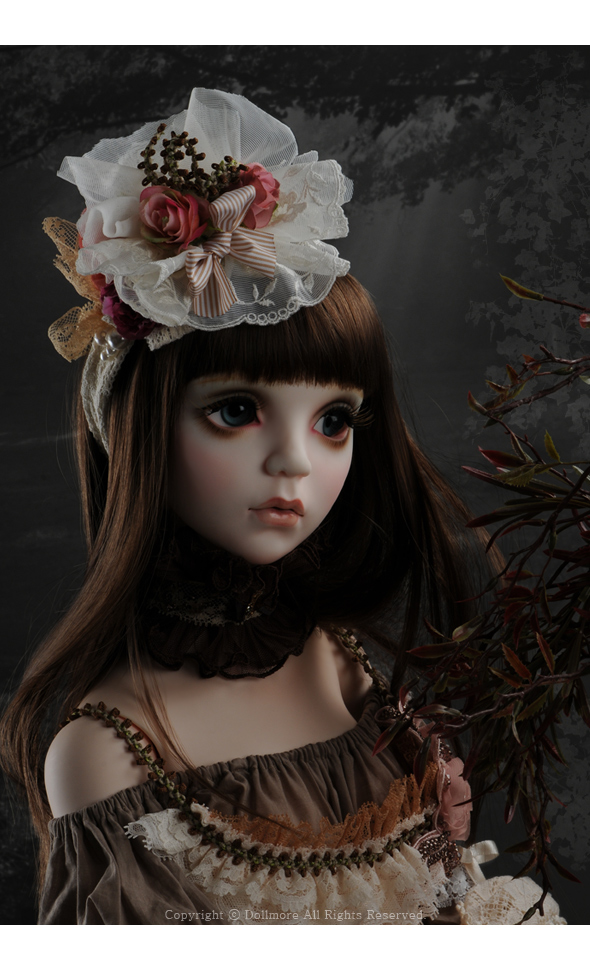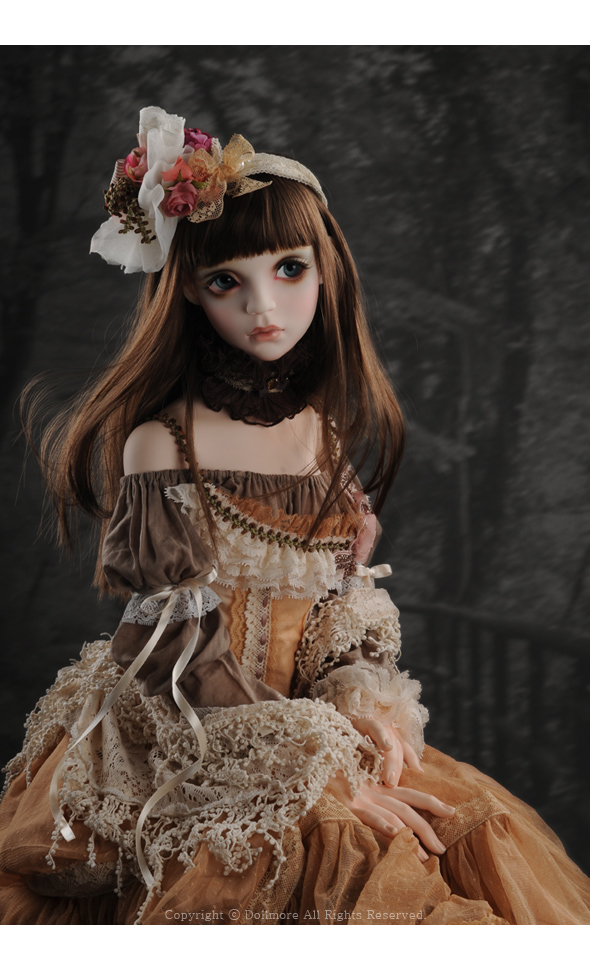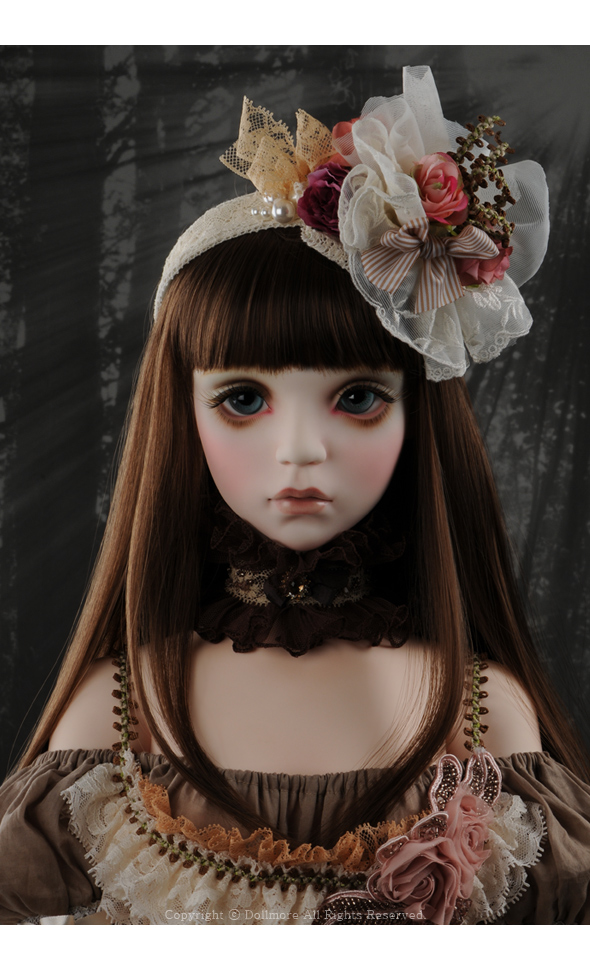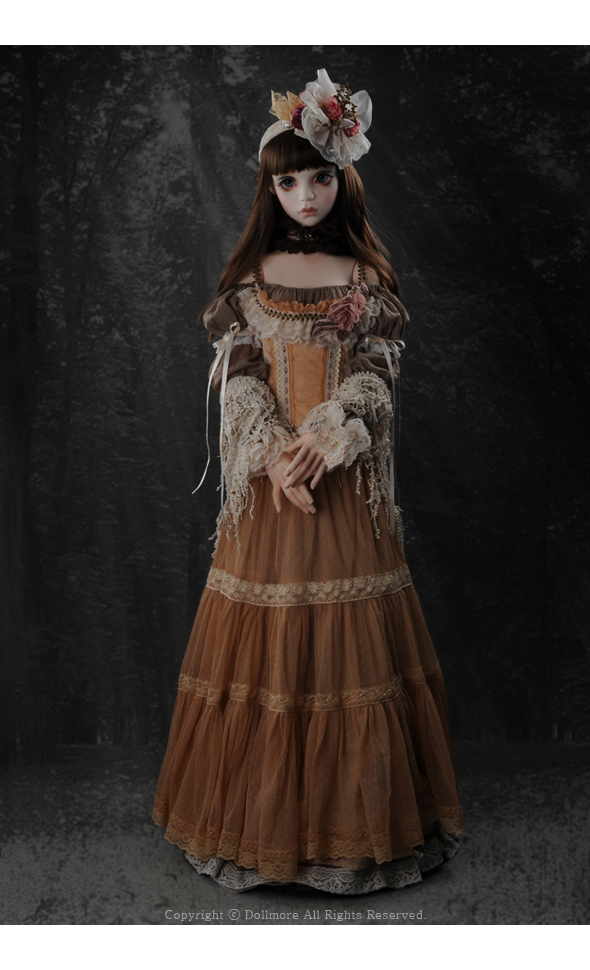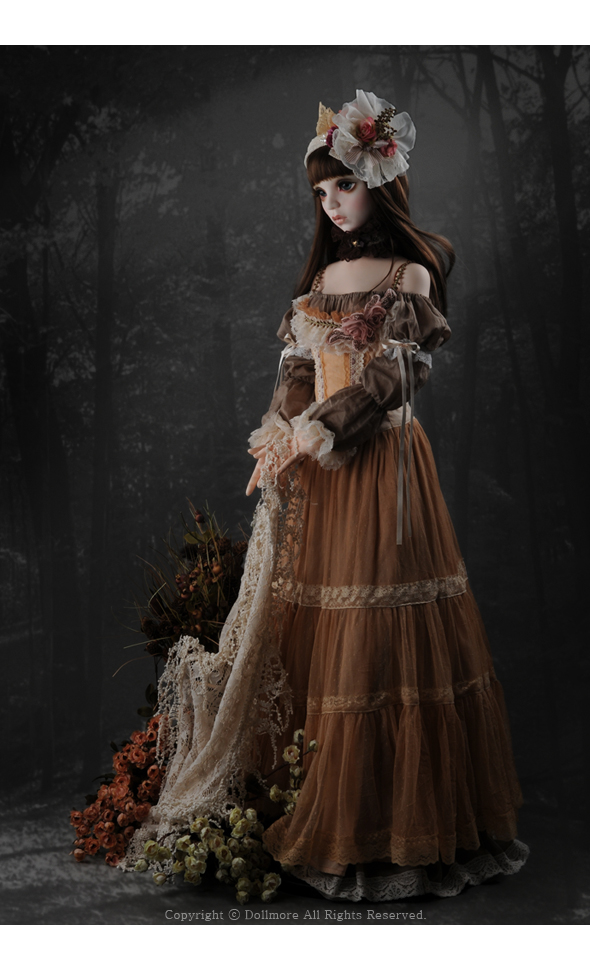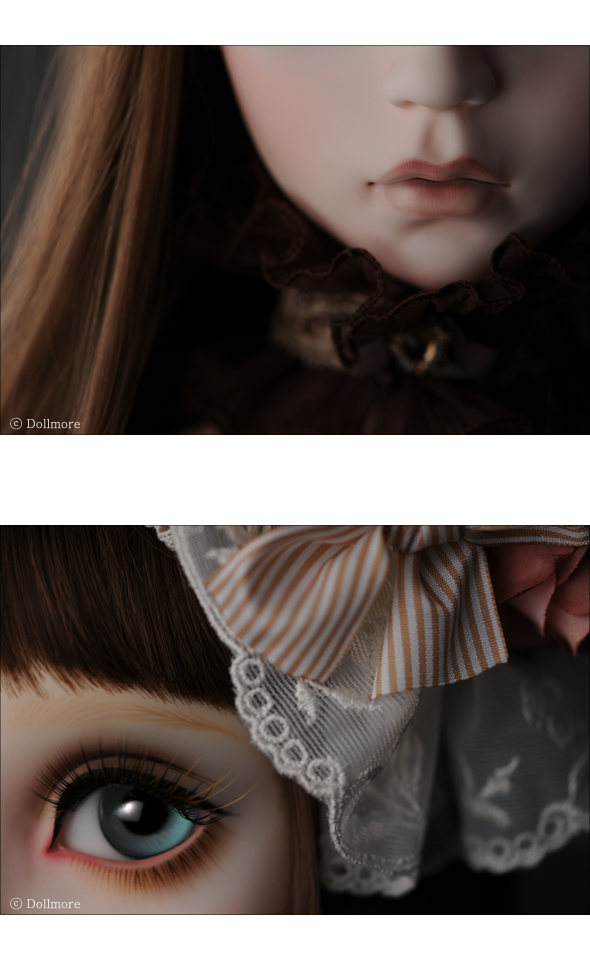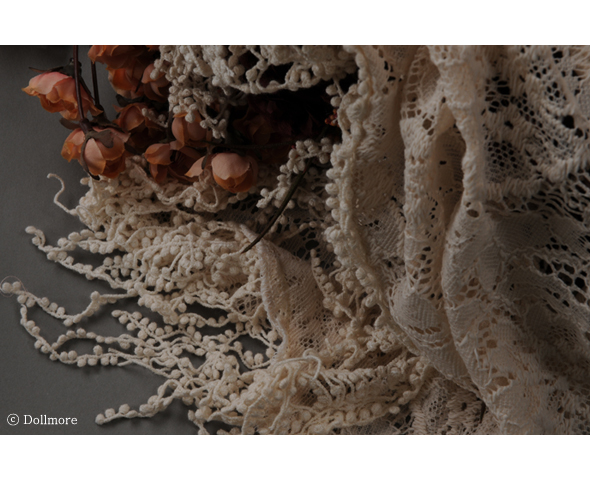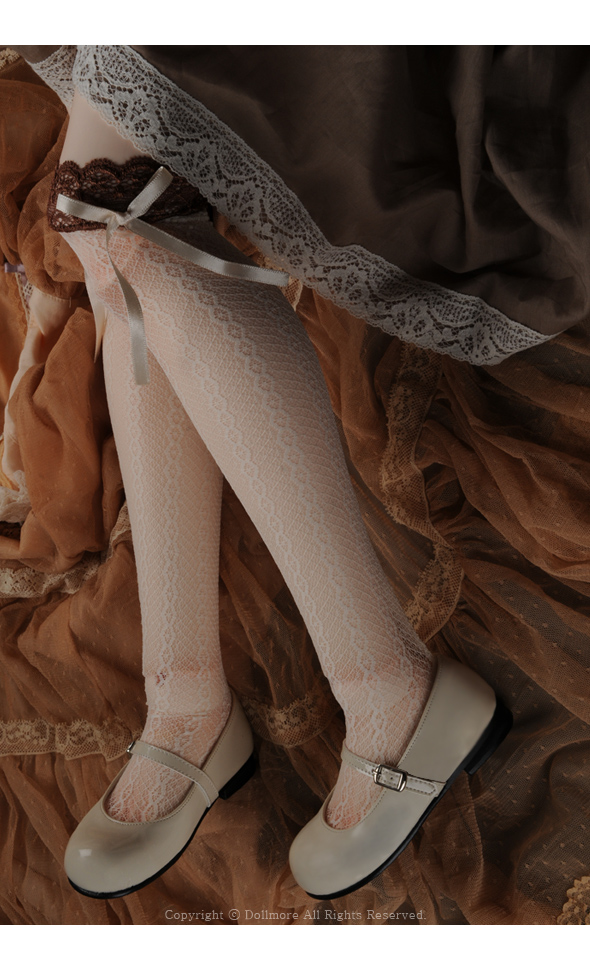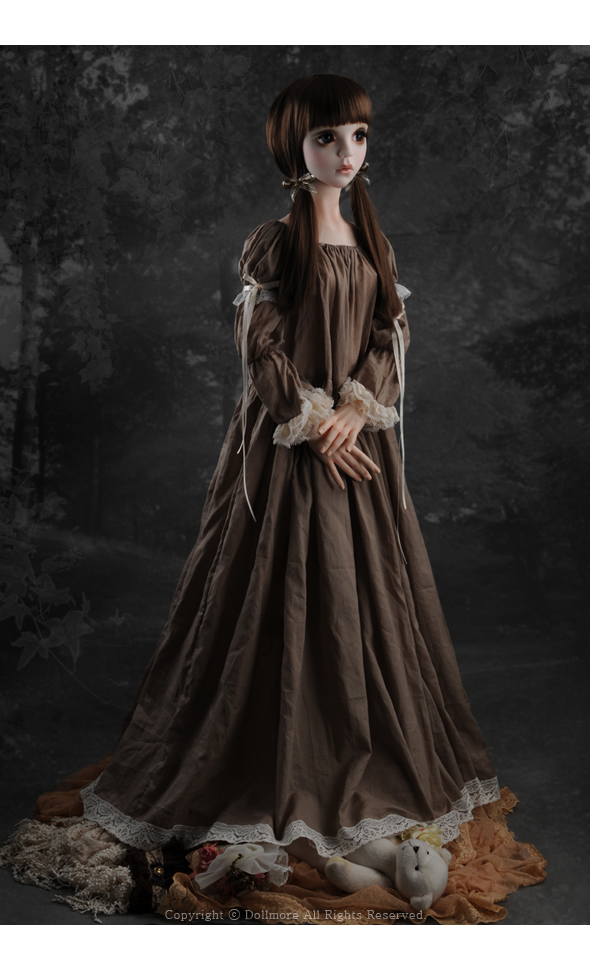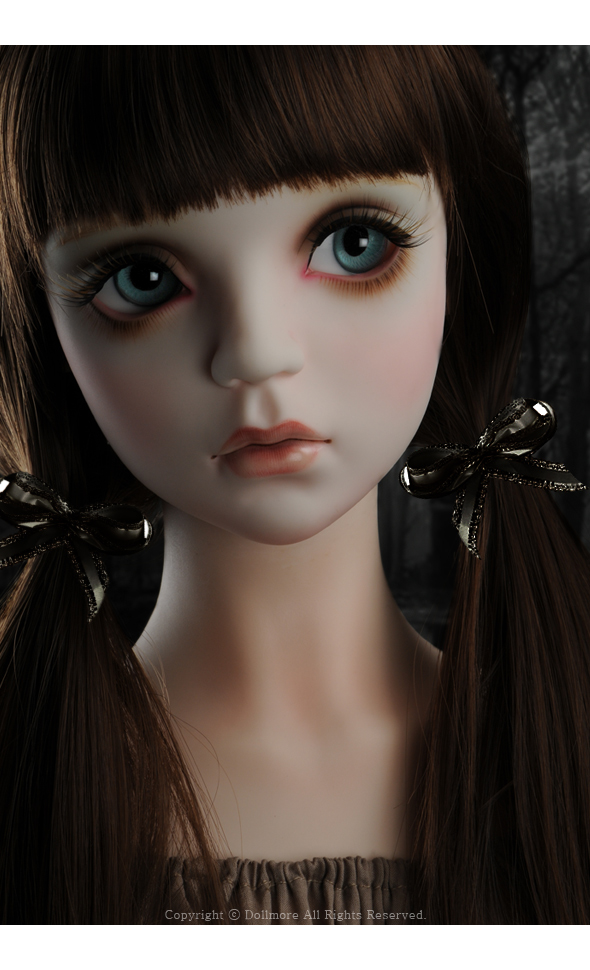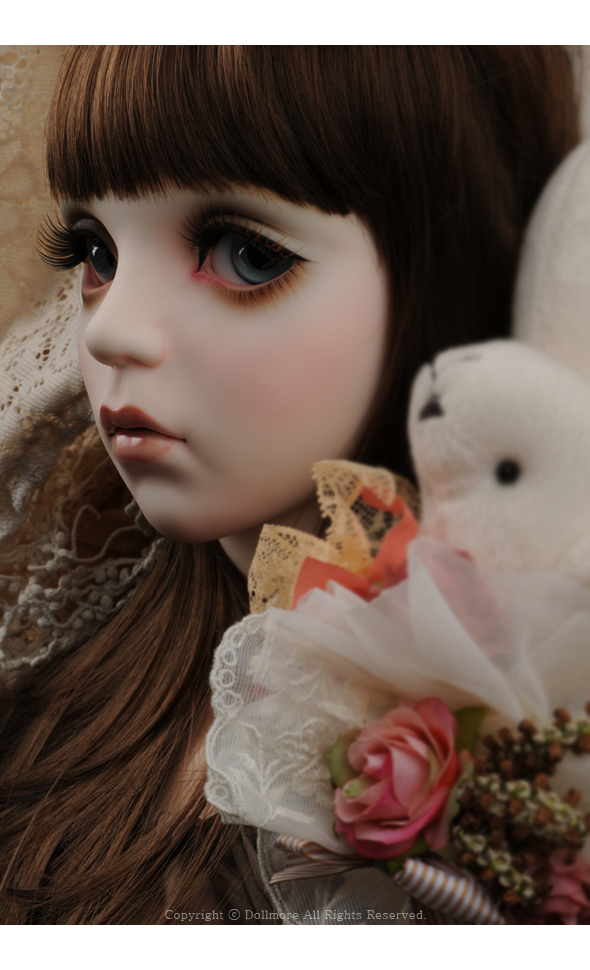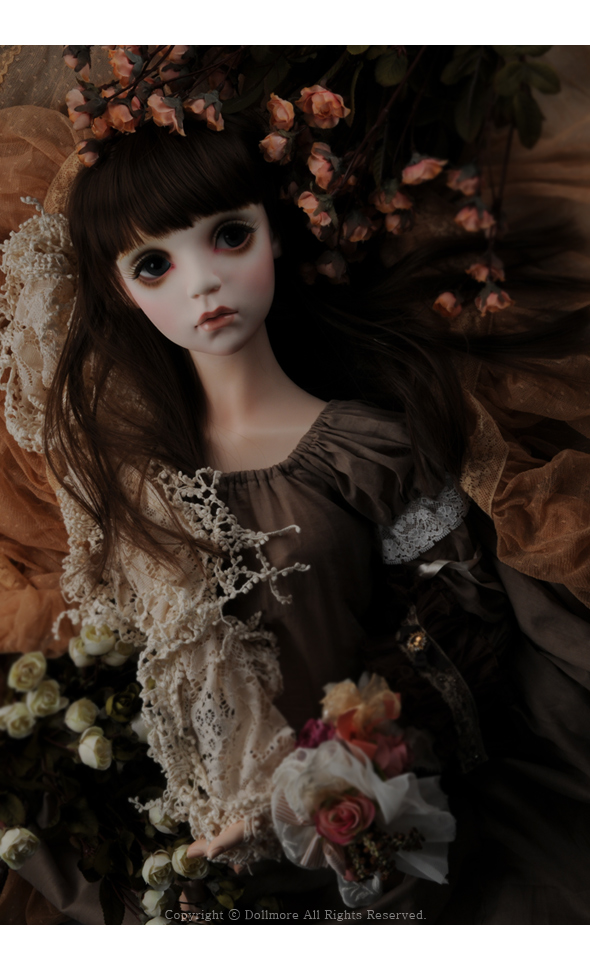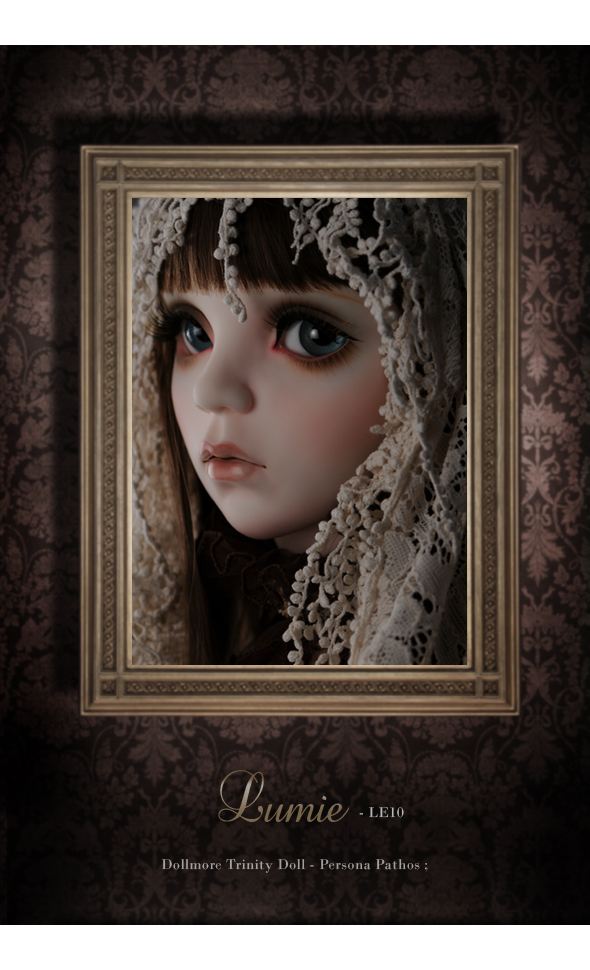 * Costume Design : ajumapama
* Trinity Doll Size
1. Tall : 105cm
2. Body length not include a head : 92cm
3. Length from hip to knee : 25cm
4. Length from knee to calf : 24cm
5. Circumference of neck : 16cm
6. Width of shoulders : 14cm
7. Circumference of chest : 42.5cm
8. Circumference of waist : 31.5cm
9. Circumference of hips : 46cm
10. Circumference of Wrist : 11cm
11. Length from shoulder to wrist, including a wrist ball : 30.5cm
12. Circumference of ankle : 13cm
13. Length from hip to Heel : 54cm
14. Length of Foot size : 12.5cm
15. Circumference of calf : 21cm
16. Weight : 7.15kg
* Design& sculpted by St.Cura
* Design registration No. 2006-50002
* For information about order and shipping
- As based on 'Production after order' system, your order can't be canceled, after paying.
- The shipping date may be delayed a little more on hand-made work. Seek your understanding.
- In general, It takes about 1-2 months from the date of your payment.
* Payment method
1. Paypal - Dollmore will send you a invoice via paypal. (help@dollmore.net/necking@dollmore.com)
2. Paygate (direct credit card payment)
3. Bank transfer.
- Bank name: Korea first Bank
- Account: 431-20-243375
- Recipient: lee eun young)
- Bank tel: 82- 2- 521- 9252
- Bank address : KOREA FIRST BANK 1675-1
Seochodong Seochogu Seoul 137-070 Korea
Gyodaeyeok Br.
- SWT code : SCBLKRSE
* Layaway Terms

To place an order on layaway, add items to your shopping cart as you normally
and put a memo for "Max 12 months Layaway" on additional comments section.
then I'll send you an invoice for 1/12 of your total order as a deposit and we will then send an invoice the remaining balance in 12 equal monthly payments beginning one month
from the original date on which you placed your layaway order.
At 12 months, after your last installment payment has been charged, we will ship you your merchandise.
In the case of LE, you can't cancel your order. Also, the initial deposit is not refundable.
Therefore, please consider very carefully before deciding to buy.